The ARI Offshore Suite is a group of simulator products that cater to the particular challenges of training, competency assessment and skills development in the offshore energy industry.
This industry, with it's unique demands and challenges requires specialized, specific training solutions that allow personnel to be immersed into the complex environment of the offshore world. The ARI Offshore Simulators have been built to comply with the requirements of IMCA, The Nautical Institute and UKOOA. Our Offshore Bridge, Offshore Crane and DP Simulators have been audited and certified by DNV-GL to the highest Class A Standard.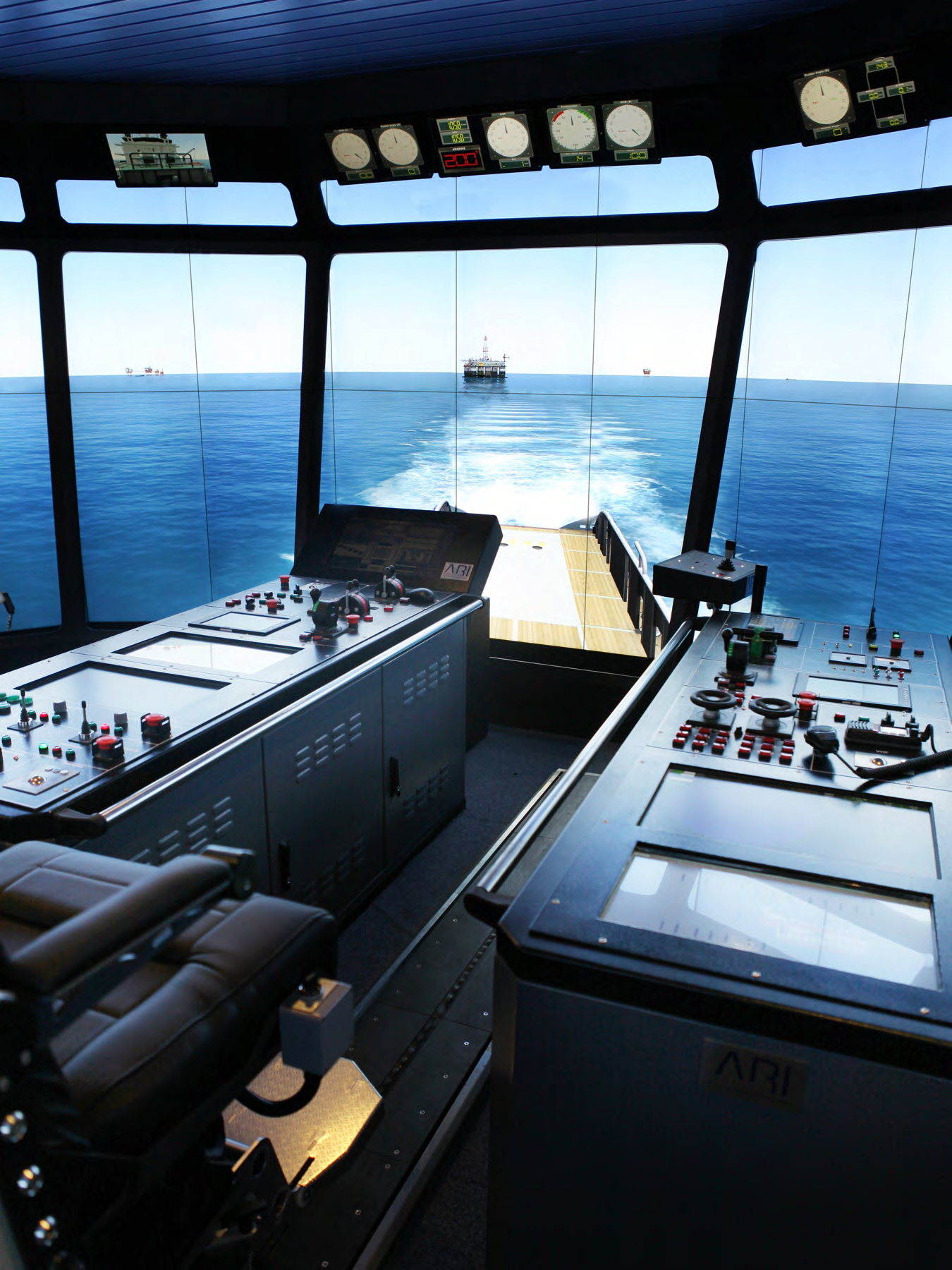 Our Offshore products can be deployed to fulfil a variety of roles including induction training, skills development, competency assessment, operator screening, orientation, mission rehearsal, operational resource management, emergencies and crisis management. Scalability is an important part of future proofing our customer's investment. Our products are versatile and can be scaled up from a lower cost desktop or portable solution right up to a full scale full mission installation on an upgrade cost basis, protecting client's investments along the way.
Another pioneering innovation is the integration capability in our offshore suite. This allows individual products to be interconnected and fully integrated, bringing true mission rehearsal training capabilities across multiple workgroups, vessels, ROVs and crane vessels cooperating in a single exercise. These features bring for the first time, near real time simulation training into the domains of offshore construction, salvage, subsea intervention, IMR and other more complex disciplines.
We have a strong offshore pre-sales technical team who will be delighted to explain any details in more depth and answer any queries you may have.
The ARI Dynamic Positioning Simulator provides a powerful platform for DP training and certification that fully complies with NI and DNV-GL to the highest Class A Standards.
The ARI DP Simulator is a scalable product that can be provided as a standalone trainer in a classroom, a multi station configuration or integrated into the ARI Offshore Bridge Simulator where it can deliver the complete experience of DP/DP-2 or DP-3 operations in a bridge environment.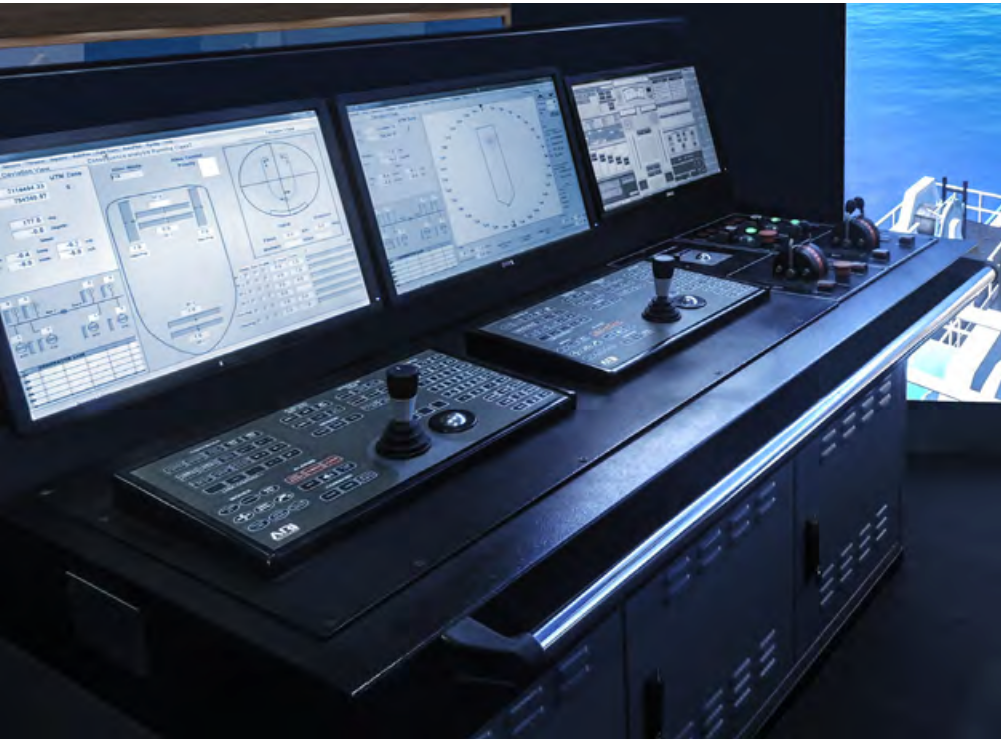 We work closely with several DP equipment manufacturers and can offer simulator solutions in which OEM DP systems are interfaced to our simulator for those clients that require real DP systems for their training programs.
The ARI Anchor Handling Simulator is an add on module for the offshore bridge simulator providing complete anchor handling capabilities supporting basic and advanced AH operations.
The simulator provides a richly detailed, physics based simulation of the anchor handling process: from transmission of the anchor pattern, interpretation and planning; picking up pennant wires and anchors to deployment and retrieval of anchors in position.
A full set of winch controls are provided which operate in parallel with the vessel handling control systems. Single and multiple vessel missions can be executed.
The ARI Offshore Crane Simulator is a tool for the training, assessment and competency development of offshore crane operators and supports a wide variety of offshore cranes in use today.
The ARI Offshore Crane Simulator is housed in a replica of the crane operating cab, fitted with a high fidelity visualisation system to deliver a fully immersive experience to the trainee.
Available crane models include pedestal, knuckle boom, box boom, ringer and subsea heave compensated crane. The simulator has been certified by DNV-GL to the highest Class A Standards, fully compliant with OPITO approved standards and encapsulates the API standards for crane types.
The ARI Machinery Simulator recreates the propulsion and machinery plant of an offshore vessel providing a comprehensive platform for training and assessment of operating personnel.
The ARI Machinery Simulator simulates all the machinery related processes of an offshore vessel and fully supports conventional and diesel electric azimuth propulsion systems. The system also supports offshore systems such as FIFI, cargo handling systems, hydraulic system controls and implements a complete power management system.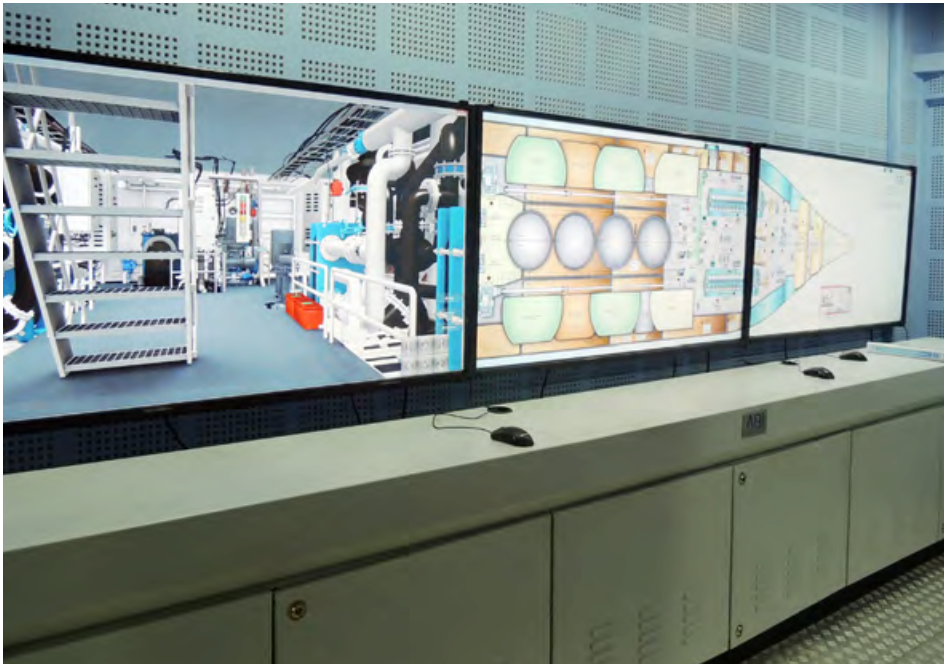 The entire machinery space of the vessel, with all equipment, machinery and controls is also available in 3D and can be used as a separate familiarization platform or in a fully interactive mode linked to the running simulation.